Join John Bradshaw and health experts from around the country as they share free and practical ways to level up every area of a person's life.
At Next Level Health, we'll share how to:
Improve the immune system

Reach peak mental performance

Increase energy

Optimize nutrition

Level up physical fitness

Improve relationships

Enhance emotional wellbeing
(CLICK here) to watch live via Google Meet
​
Episode 1 | Boost Immunity (Study Guide 1)
Immunity needs to be at its best. This episode of Next Level Health shares practical steps to boost the ability to fight off illnesses.
Episode 2 | Mental Performance (Study Guide 2)
The world is whirling in confusion. This episode of Next Level Health gives tools to clearly sort through the mass of information and find what really matters.
Episode 3 | Increase Energy (Study Guide 3)
Daily responsibilities drain all the energy. This episode of Next Level Health explores the good news that energy doesn't have to rely on pills and supplements.
Episode 4 | Nutrition Secrets
Fruits and veggies are game changers. This episode of Next Level Health shares how good food fuels health.
Episode 5 | Fit For Life
Good physical fitness is about healthy choices. This episode of Next Level Health teaches practical and doable exercises that can be done every day.
Episode 6 | Healthier Relationships
Relationships are stressful. This episode of Next Level Health gives practical strategies to improve connections with people.
Episode 7 | Emotional Wellbeing
A high IQ is good. This episode of Next Level Health reveals that EQ, emotional quotient, is even more important.
6. CANAAN HOME - CAROB COCONUT FEEL GOOD BARS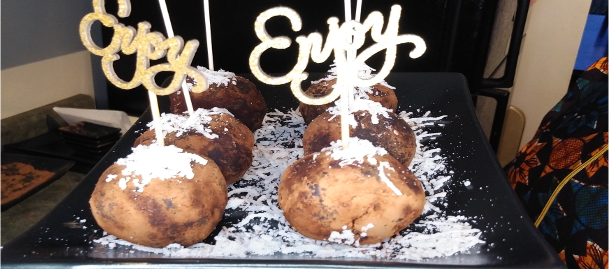 Carob powder offers some benefits to health because contains high levels of nutrients and antioxidants. Selenium is required to maintain a healthy thyroid function and help build DNA. One cup of locust powder contains about 10 percent of recommended daily selenium need.
Ingredients:
4 medjool dates (pitted)
2 tablespoons almonds (ground)
2 tablespoons almond butter (preferable white one)
1 tablespoon carob powder
1/2 teaspoon vanilla (ground)
1/2 teaspoon cinnamon
1/2 teaspoon cardamom
2 teaspoons coconut milk (optional)
1 tablespoon desiccated coconut 
1 pinch cayenne pepper flake
Instructions
Mash the dates with a fork until they have a creamy consistency (about 1 minute).
Mix almonds, carob powder and the spices together in a bowl.
Add the dates and almond butter and mix carefully with the fork.
If the mixture is still too dry, add 1-2 teaspoons of plant-milk and finally knead it all by hand until you're left with a smooth dough-like ball.
Form 12 balls and roll them in the desiccated coconut.
7. CANAAN HOME - FEEL GOOD PUMPKIN SOUP
Ingredients
1 Tsp. each: onion and garlic powder. 
1 cup baked  Pumpkin / Squash, skin removed and cut into small chunks
1 baked Sweet Potato, peeled and cut into small chunks
1 raw Carrot, peeled and cut into small chunks
1 Brown or Yellow Onion, cut into small chunks
1 cup coconut milk, 
1 cup water
1 tsp. pink salt
2 tbsp. Blended seasonings OPTIONAL 
1 tbsp. each, fresh garlic and turmeric

 
Instructions 
Place all the ingredients in a blender and blend till very smooth consistency. 
You can either heat it up and serve it warm or serve it cold as a dip or a cold soup on a hot day. 
Enjoy !!